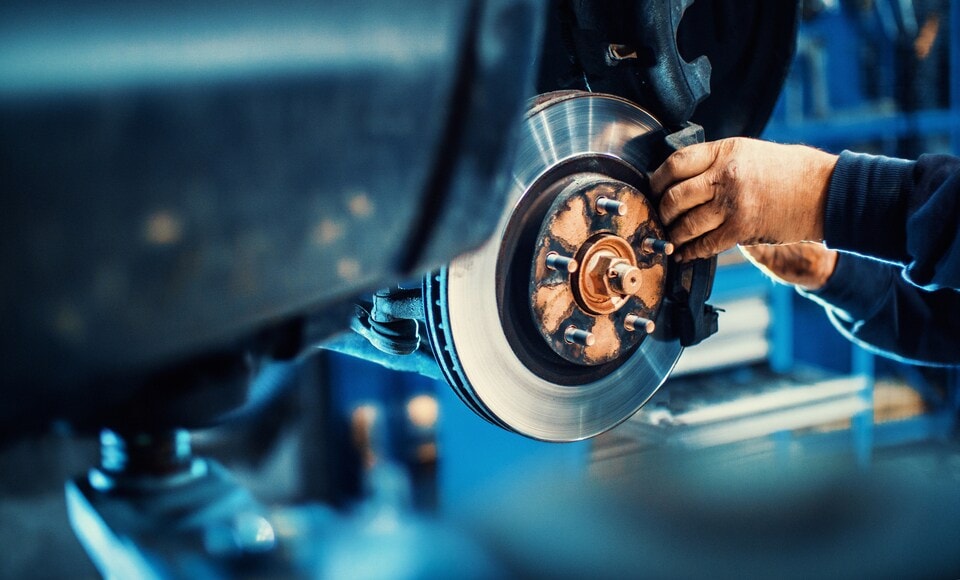 Get Your Subaru Brake Service Today with Tucson Subaru
Schedule Brake Service for Your Subaru in Tucson
While Subaru vehicles are popular for their quality and safety, they require necessary maintenance along the way to keep them in prime operating condition. One system in your vehicle you never want to ignore is your braking system. Having the power to stop quickly, safely, and reliably is paramount to basic vehicle operation, so never skip a brake inspection or regular maintenance on your braking system.
Brake Pads
As the most common type of brake repair, Tucson drivers are quite familiar with having their brake pads replaced. It's hard to gauge exactly when your Subaru SUV or car will need a new set; a lot depends upon your personal driving circumstances, such as daily route and driving style. Generally speaking, you can expect to have to change the brake pads between 20,000 and 50,000 miles. The characteristic loud squealing noise you hear as your brake pads get lower provides all the incentive you'll need to make an appointment with your technician. However, motorists with a tolerance for shrill noises may leave it too long and wind up with expensive damage to their rotors.
Hydraulic Lines
There are a few issues that require service to your brake lines. The most common is a fluid flush, which is simply draining all the spent fluid from the system and replacing it with fresh fluid every few years. Brake fluid is water-soluble, unlike other oil-based fluids in your engine. This makeup means that condensation or other sources of moisture begin to dilute and break down brake fluid upon entering the hydraulic system, reducing the fluid's efficacy. A common sign of aging brake fluid is the reduced braking power, which can quickly become a safety concern. Replacing the fluid immediately returns your braking power to its previous level.
You can also acquire tiny air bubbles in your brake lines, as no system is perfectly airtight. If the air bubbles accumulate to a high enough level, you'll also experience a loss of stopping power. This situation gets rectified through a process known as bleeding the brakes, where the air in the system gets pumped out through braking action. Most drivers won't require brake bleeding, as it's usually the result of an accidental leak or puncture of the brake lines, a rare occurrence.
Rotors
Most rotors function ideally for several years. You may never require rotor service for your Subaru car or SUV unless you own it beyond the 60,000-mile range for rotor lifespan or because the rotors have become damaged in some way. The most likely cause of damage is letting your brake pads wear down too far. Rotors can often get smoothed or resurfaced rather than replaced.
Master Cylinders
Thankfully, manufacturers design master cylinders to last throughout the vehicle's lifetime, but as with any mechanical component, the possibility of failure exists. If grit and dust make their way into the closed system through some kind of leak, they jam up the works, making it easier and more advisable to replace the entire unit rather than attempt to seek out and repair one aspect of such a delicate mechanism. Being so rate, only a handful of drivers will encounter the need for this kind of brake service.
At Tucson Subaru, our technicians train extensively in all aspects of Subaru brake repair, utilizing parts sourced straight from the manufacturer so that every visit returns your vehicle to its original state rather than introducing third party components that may lack in quality machining or materials. We'll also remind you when important milestones approach, like when it's time to replace your brake fluid. Trust us to keep your Subaru running smoothly and stopping reliably.
Make an Inquiry
* Indicates a required field
Hours
Monday

8:00am-8:00pm

Tuesday

8:00am-8:00pm

Wednesday

8:00am-8:00pm

Thursday

8:00am-8:00pm

Friday

8:00am-8:00pm

Saturday

8:00am-8:00pm

Sunday

Closed