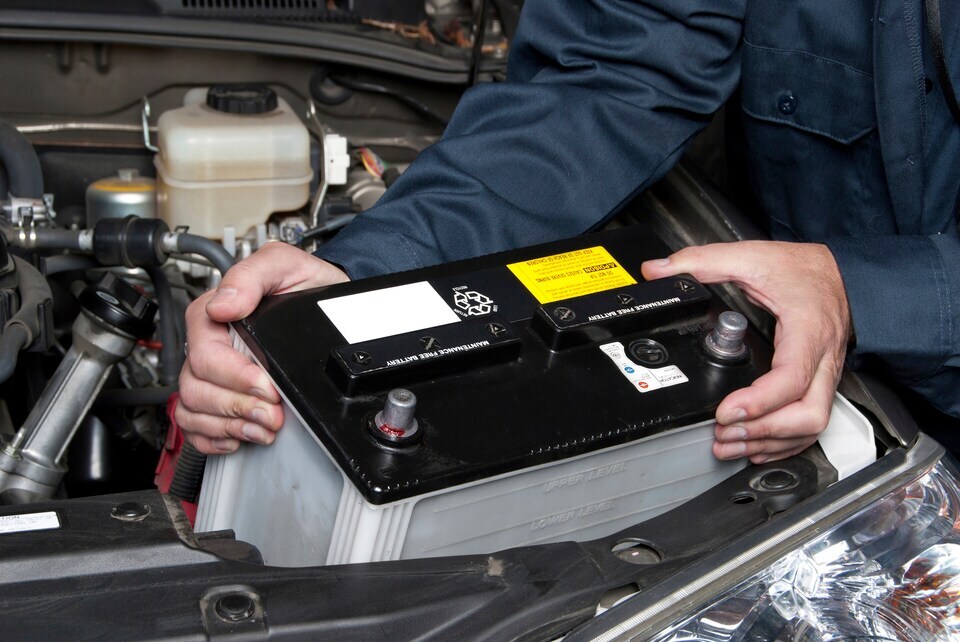 Get Your Subaru Battery Changed Today with Tucson Subaru
Battery Change Service at Tucson Subaru
Everything You Need to Know About Replacing Your Battery in Tucson, AZ
Have you ever tried starting up your car without hearing so much as a click or a rumble of the engine?  Many factors could potentially indicate a problem with your engine, but most commonly, your car not starting is likely due to a dead or damaged battery. Here at Tucson Subaru, our expert service team is equipped with the means to diagnose and replace your dead battery, as well as to teach you the proper steps to self-diagnosing the problem on your own.
Dead Battery Warning Signs
The first step to fixing your dead battery is learning how to diagnose the warning signs.  If your Subaru is having trouble starting or delivering lackluster performance on the roads in Tucson, AZ, it may be because your battery is either dead or damaged. In any case, a poor functioning battery needs to be replaced for your vehicle to perform at its highest potential.
But what are some of the most common warning signs indicating that your battery needs to be replaced? In addition to turning the key to find out your engine won't turn over, here are some of the other most popular dead battery warning signs, including:
Engine clicks but won't turn over
Dimming headlights or interior cabin lights
Very slow crank or sluggish startup
Severe engine backfiring
And more
We Can Help Replace Your Damaged Battery
When it comes to replacing dead car batteries, the experts at Tucson Subaru are the best in the business for accurately diagnosing and fixing automotive electrical issues. After properly diagnosing the problem with your battery, we can help replace it with a brand-new OEM battery that's certified to last you for the long haul.  To help you understand the process with more clarity, here's an overview of what replacing your dead car battery entails:
We'll start by removing the positive and negative battery terminals
After removing your old battery, we'll clean the area inside your engine bay where your battery sits
At this point, we'll inspect the surrounding parts and check for signs of corrosion or electrical damage
Using genuine OEM replacement parts, we'll install a brand-new battery and clean up your terminals
After reinstalling your new battery, we'll torque it down to spec and test it by putting a load on the battery
Important Battery Safety Tips
If you're in the market for battery replacement services, we recommend contacting the professionals at Tucson Subaru to help ensure the job gets done correctly.  But if you're feeling confident that you can diagnose and fix the problem yourself, there are a few important safety measures to consider before you go removing and replacing your car battery, including:
Refer to your owner's manual for proper battery replacement procedure and installation
Always wear safety goggles and proper clothing to protect your arms, body, and face
Keep flames, sparks, and other ignition sources far away from you while working on your battery
Ensure your work area is properly ventilated
Research and read instructions before using jumper cables or booster packs
Schedule Battery Replacement Services at Tucson Subaru
For help replacing your dead or damaged battery, you can trust the service experts at Tucson Subaru to operate on your vehicle safely using the proper tools and equipment. If you're in the market for battery replacement services, we invite you to schedule an appointment online or by visiting us in person at our Subaru facility in Tucson, AZ.  For more information, please don't hesitate to contact us. We look forward to working with you!
Make an Inquiry
* Indicates a required field
Hours
Monday

8:00am-8:00pm

Tuesday

8:00am-8:00pm

Wednesday

8:00am-8:00pm

Thursday

8:00am-8:00pm

Friday

8:00am-8:00pm

Saturday

8:00am-8:00pm

Sunday

Closed